A 14-year-old girl has been arrested and charged over her alleged role in a schoolboy's arrest and abduction that left him fighting for his life.
A third teenager has been charged over the alleged abduction and assault of a schoolboy that left him fighting for his life in Melbourne.
A Glen Eira College boy, 14, was allegedly approached by a number of people in a Volkswagen while walking home from school about 3.35pm in Glen Huntly on Monday last week.
He was allegedly forced into the car before being pushed out of the moving vehicle a short time later. He was rushed to hospital with what police said were "life-altering" injuries.
Victoria Police on Wednesday confirmed the boy remains in serious condition and a third arrest has been made.
A Glen Eira College student was allegedly pulled into a grey Volkswagen as he walked home from school. Picture: Jake Nowakowski
A Langwarrin girl, 14, was arrested and charged with multiple offences, including conduct endangering serious injury, recklessly causing serious injury in circumstances of gross violence, dangerous driving, armed robbery, robbery, theft of motor vehicle and possessing proceeds of crime.
"She has been bailed to appear at a Children's Court at a later date. The investigation remains ongoing," police said in a statement.
It comes after police arrested a boy, 14, last week. He is allegedly a known youth gang member and the suspected ringleader of the Glen Huntly attack.
He was reportedly charged with over 30 offences.
Three teenagers have been charged over their roles in the alleged abduction and assault of a schoolboy. Picture: Supplied
Another boy, 15, was arrested on Saturday and charged with multiple offences including conduct endangering life, intentionally causing serious injury and armed robbery.
Victoria Police Inspector Scott Dwyer last week detailed the harrowing figures behind the state's youth crime crisis and the number of gang-related activity.
"We currently have 598 youth gang members that we have identified in Victoria, they belong to 44 gangs," he said.
"Of those 590 offenders that we have identified as gang members, 440 of those have been arrested over 1600 times in the last 12 months.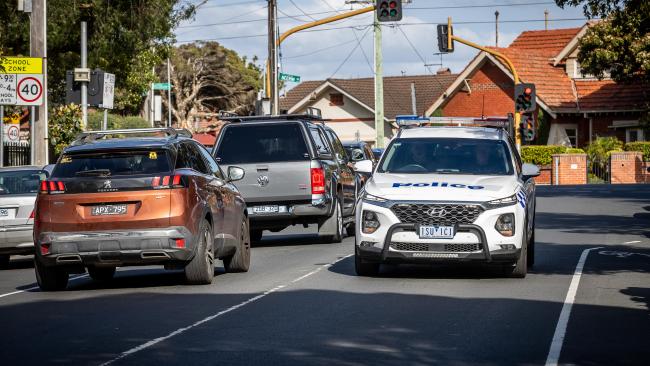 Police drive past the school where a boy was allegedly abducted and assaulted in an effort to increase patrols. Picture: Jake Nowakowski
"80 of those youth gang members have been arrested over 10 times each in the last 12 months."
The Victorian government is pushing ahead with its proposed bail law reforms while the Opposition continue to push for increased bail thresholds for minors accused of repeat offending.
The recent spate of youth crime and re-offending rates has caused a divide between the two parties.
The state government has, however, reached a compromise and agreed to include one Liberal proposal that would force a review of the updated bail laws no later than two years after they take effect.